Joe Pemberton
Mar 26th, 2009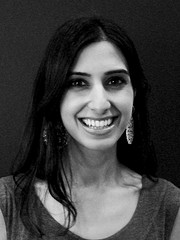 Shilpa Shah, Associate Director of Interaction Design at Punchcut, will discuss aspects of virtual connection (i.e. social networking) and the opportunity for mobile applications to enable and enhance real-world connections at Design For Mobile 2009.
The Conference will take place April 20 to 22 at the Eldridge Hotel in Lawrence, Kansas.
// SESSION TITLE
Thanks for the email, chat, post, wave, poke and tweet. Now can we grab a real drink?
// SESSION ABSTRACT
The mobile landscape is finally changing. With smartphone penetration at 20%, the phone's promise as a mini portable computer is being realized and we are increasingly using phones to virtually connect, often choosing text instead of voice; Facebook or Twitter over email. But, as our virtual interactions increase, a greater value is concurrently being placed on our real, physical connections. The most compelling applications will be those which infuse the virtual realm into our physical environment, creating synergies for tangible experiences and exchanges.
As designers, we have the unique ability and responsibility to meet this growing desire and to design applications which will compel users to engage with their physical surroundings instead of escaping from the current reality.
// SPEAKER
Shilpa Shah, Associate Director, Interaction Design at Punchcut
Shilpa brings over 8 years of design expertise leading teams and driving innovative interface solutions for a variety of mobile, web, and software UI initiatives. Shilpa is an Associate Director of Interaction Design at Punchcut, a leading mobile user interface strategy and design company. She has designed user interfaces for select top-tier network operators and consumer device manufacturers on a breadth of convergent and mobile user experience initiatives.
Shilpa loves photography, film, snowboarding, scuba diving, and traveling. She has spent significant time volunteering for Artwallah in LA, W.O.R.K. in Sri Lanka and for the African Medical Mission in South Africa.
Leave a Reply
You must be logged in to post a comment.