Joe Pemberton
Oct 4th, 2007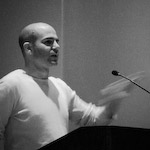 Josh Ulm, Director of User Experience, Adobe spoke at the company's annual MAX conference in Chicago.
I especially liked his before and after review of Yahoo! Go and Google Maps for mobile.
His comments on "Demonstrating the Brand" were right on — especially his point about the newish Yahoo! Go application. The user interface is a huge improvement over the previous Yahoo! WAP version, but even though the visual branding is much better aligned, the application falls short of the Yahoo! brand promise. Yahoo! is built on bringing me my content, and somehow the Yahoo! Go app manages to deliver merely generic content.
This point is one the mobile industry, and more specifically, the mobile user experience community is not focused enough on. Focusing on getting the usability and the interactions right is only part of the equation. Don't lose sight of the content. Is it right? And is its delivery true to the brand.
Since a majority of Ulm's thoughts are shared in Mobile Persuasion I've just focused on the highlights.
One Response to "Adobe MAX: Josh Ulm dissects the mobile user experience"
User experience is the key of new era of mobile technologies
Leave a Reply
You must be logged in to post a comment.