Jared Benson
Jan 10th, 2007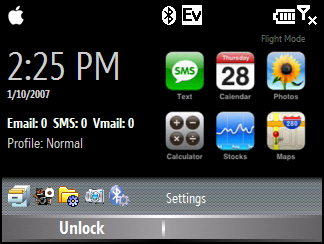 Got Windows Mobile? Don't fret, you can be cool like Steve Jobs too.
If you're like me, perhaps you bought that Motorola Q for its slim form factor, only to find that you no longer have the sveltest handset on the market anymore. Well look no further; you don't have to switch to Cingular in June after all. Simply enable this handy iPhone theme on your Q (or brand new Q Pro) and be the envy of all.
Before you get your hopes up, those nifty icons are just for decoration. Its Windows Mobile; you didn't actually expect them to work, did you?
The theme does provide one-click access to your messaging options. [Not available for download.]