Joe Pemberton
Jan 28th, 2007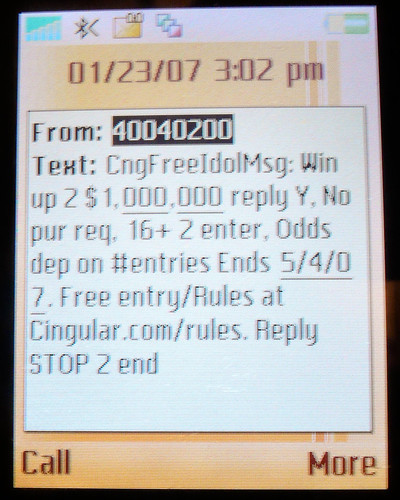 This is a real text message from Cingular. (I'm sure my phone is in their database from last season when my daughters voted for Ms. McPhee.)
But, I couldn't believe this jumble of text. I have no doubt 16 year olds could probably understand it… but I question whether that still makes it smart marketing. Does bad language and incoherent punctuation add street cred? Do they do it because they believe users won't scroll?
The haphazard punctuation — sometimes a comma, sometimes a period, sometimes nothing — is the icing on the cupcake. Why push the boundaries of language this far into the downright ludicrous? Are they trying to cut character count to save on data transfers? I don't get it.
One Response to "Cnglr mrktg dpt snds crzy txt msg"
Build Your Own Residual Income Business
Products to Make You Feel Great, a Strong Support Team, and a Revolutionary New, Lucrative Compensation Plan! Agel is a new company and is uniquely positioned to be the next giant in this area. The company has developed an entirely new category of products. Imagine being part of the next industry-changing innovation.

Video information http://www.biz.go-agel.biz/index.php?newlang=english&name=videoclips&op=CatView&cat=2
This video may change your life forever.

Click here to get more information http://www.biz.go-agel.biz/index.php?newlang=russian&newlang=english
Leave a Reply
You must be logged in to post a comment.