Jared Benson
May 14th, 2007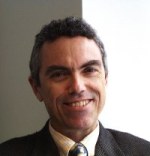 MEX CONFERENCE, LONDON — Paul Kompfner, Head of Development for ERTICO spoke in response to the following MEX manifesto point:
"The world is gaining embedded intelligence. The mobile industry faces a fundamental user experience challenge to make handsets as effective as communicating with the environment as they are with other humans. We think the connection of millions of machines to wireless communication networks represents the most significant generational change since the introduction of packet data."
Imagine this: As you approach your vehicle, technology in your mobile phone interfaces with the car. It authenticates and unlocks for you. The seats, mirrors, radio stations adjust to your presets as you settle into the vehicle.
You start the car without need for a key. Your media in your device syncs with the larger capacity and capability of the vehicle. As you rocket down the highway listening to a favorite podcast, a call comes in. The volume reduces and you're able to press a key on your steering wheel to take the call, never having had to take your eyes off the road.
Suddenly carrying around a device in our hand feels only mildly mobile. How does a user's needs change when moving down a highway at 100mph? The automobile is the next frontier for the mobile user experience. Getting the experience right can mean the difference between life and death.
Continue Reading »