July 27, 2009
Carnival of the Mobilists #184
Posted in: Observations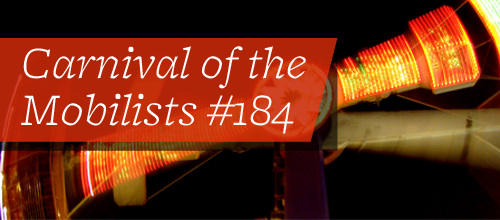 The Carnival of the Mobilists aims to showcase some of the best mobile-focused blog posts from the mobile blogging community and Punchcut is delighted to host edition #184 here at Idlemode. Our team has authored several articles featured in past Carnival editions, but if you don't know us, we're a San Francisco-based UI design company focused on strategy, user experience design and development for the digital lifestyle.
Contributions this week cover a breadth of topics from Tomi Ahonen, Dennis Bournique, Judy Breck, Tam Hanna, Volker Hirsch, Holly Kolman, Sanjeet Matharu, C. Enrique Ortiz, Howard Rheingold, and Peggy Anne Salz.
1 // Convergence - Converging between virtual and physical
Howard Rheingold at SmartMobs shares his observation and spider-sense on the convergence experience, titled Toward the era of (printed?) sentient things…
"Watch smart mobs emerge when millions of people use location-aware mobile communication devices in computation-pervaded environments. Things we hold in our hands are already speaking to things in the world. Using our telephones as remote controls is only the beginning. At the same time that the environment is growing more sentient, the device in your hand is evolving from portable to wearable. A new media sphere is emerging from this process, one that could become at least as influential, lucrative, and ubiquitous as previous media spheres opened by print, telegraphy, telephony, radio, television, and the wired Internet."
2 // Mobile App Stores vs. the Mobile Web
Volker Hirsch has an insightful post touching upon the dilemma and pain points around developing for mobile app stores versus the mobile web in So, Google: App Store or Web? Or Both?.
"Whenever possible, services will move online because it is cheaper to produce. Whenever necessary, they will be delivered through dedicated apps because it is required to use them!"
Dennis Bournique at WAP Review has posted a response titled Is the Web on Mobile Phones "Total
Rubbish"? to Malcolm Murphy at Mobile Industry Review. Dennis thinks the problems of mobile web are fixable and being worked, but accessing web content using applications is not scalable.
"Applications are important and will be increasingly popular with users. There are some types of services like navigation and mapping that will probably always be better as done an app. But it is the browser where the real growth in the consumption of cloud based data will occur. The reason is scalability. Apps are not scalable on a couple of levels."
In Resolving Device Fragmentation Issues - Mobile Web and Local Apps (and Google), C. Enrique Ortiz at About Mobility commented on Google's comment at MobileBeat2009 about mobile apps and the future.
"But it is IMHO that local apps are here to stay; because limiting apps to browser-based apps will be too limiting, in functionality and richness and in programming models and at times in speed. And because it is about the developer community (internal and external), "limiting" will translate to less innovation."
3 // Mobile Web Widgets
Sanjeet Matharu blogged about a devcamp event featuring Summer Of Widgets competition held by Betavine, Vodafone's mobile developer community. Vodafone is offering weekly prizes to developers throughout July and August. The success criteria includes Ease of use, Creativity, and Value to the potential user. Here is what they meant by "Mobile Widgets".
"Mobile widgets are mini applications that sit on a handset and can be personalised to retrieve relevant information from the web. They provide 'always on' services based on the information users want to receive, and are a new touch point for how consumers use the mobile internet.

Widgets are based on web code rather than on specialist programming language, which makes it possible for both professional and amateur developers to tap into their potential."
Related Links:
Primer Cañas&Widgets en Madrid
Paco Marín (Vodafone): "Android es mejor que Symbian para crear comunidad"
www.flickr.com/vodafone_es
4 // Mobile Web
Holly Kolman has a post on how the .mobi domain name can make a site not only mobile-friendly, but kid-friendly.
"Keeping with the trend of corporations using a .mobi domain name to shorten an ugly long URL, Disney uses the domain name HannahMontana.mobi instead of trying to get kids to remember http://m.disney.go.com/m/hmt/t/index."
5 // Mobile Phone Based Clinical Microscopy
Judy Breck at GoldenSwamp wrote an interesting piece, titled Collecting visual information mobilely to highlight a research product, CellScope, a mobile phone microscopy, developed by researchers at the University of California, Berkeley. It leverages portable, camera-enabled mobile phones for diagnostic imaging and telemedicine.
"…the ability to take images wherever you happen to be and transmit them to a clinician has major potential for improving health care in developing countries where to a large extent microscopes are not available."
6 // Palm Pre
In Palm Pre market share - real US figures, Tam Hanna speculates on why Palm is not particularly talkative about the Pre's market share based on some real US figures that have just been released by mobile advertising provider AdMob.
"Some Palm heads hoped that the Pre could become a success similar to the iPhone: this definitely hasn't happened (and probably won't happen in the near future). The real question we have to ask each other is if Palm can live off the Pre sales on the long run…and I am not sure if 300kpcs/quarter is enough to keep them afloat on the long run (especially without a constant revenue stream from apps)…"
7 // Smartphone Realism
Tomi Ahonen has posted part 2 of his Smartphone Realism series, titled Smartphone Realism Part 2; What is biggest factor to global market success discussing the role of the sales channel and of what is called "carrier relationships" for the handset makers.
"The enterprise oriented business smartphones for employees, are effectively selected by an IT department at any major corporation, that wants desperately to avoid any new systems to add to their complexity. Then in the markets where subsidies distort competition, the decisions of essentially awarding markets to given brands of phones and given phone models is with the carriers/operators; not with the handset manufacturers. Only in the unsubsidised consumer market, is there real undistorted competition to weed out the strong from the pack."
8 // Mobile Advertising
Peggy Anne Salz at MSEARCHGroove offers a thorough analysis, called ANALYSIS: Blyk: Mobile Advertising Is Not A Technology Play; Why Operators Have Missed The Mark covering the news of Blyk's partnership with Vodafone Netherlands, an exclusive Q&A with Blyk co-founder and CEO, Pekka Ala-Pietilä, and some questions around why mobile advertising is not the major revenue source compare to other mass media.
"'Think of Blyk as a Coke.' as this example makes our role easier to understand. We have the recipe and we have the brand. People understand Blyk; young people understand what it means when we come to a country. The recipe is how you make it work. The operators have the factories for making all the refreshments they need, and they have their existing distribution channels. Basically, they have the works. But if they bring Coke in there, they can get so much more volume and so much more value."
That's it for this week. Next week's Carnival will be hosted by Eric Chan at Mobileslate. You can also check out the Host Schedule for the year.
---
Return to: Carnival of the Mobilists #184