Nancy Broden
May 9th, 2007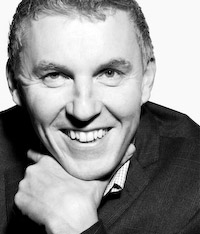 MEX CONFERENCE, LONDON — Antti Ohrling, co-founder of Blyk kicked off the second day of the MEX conference with his views on understanding the importance of user experience in delivering mobile advertising. Ohrling's core belief is that mobile advertising is successful only if it is relevant and contextual: the consumer must see it as a benefit, rather than a distraction.
Ohrling used his presentation to discredit 3 commonly held myths about advertising in the mobile context, based on his experience with Blyk and on customer surveys Blyk has recently conducted. First he pointed out that the target audience for mobile advertising is a 19-year-old male, 80% of whom are paying their own monthly mobile phone bill.
Myth #1: Content is King
By this Ohrling means the use of content as a platform to delivery advertising. A January 2007 survey of 619 mobile phone users aged 16 to 24 year-old asked them what they do most with their mobile phones:
Voice
Text
Alarm clock
73% do not use mobile data services. 2/3 said they use mobile data services once a month or less, which in essence means that they don't use it at all. Tying a mobile advertising campaign to WAP-based content that requires the consumer to access via the browser on their device is thus not a sound decision.
Why is this so? Mobile is still primarily a communication channel in the minds of customers and is likely to remain so in the near term. Blyk's strategy is to provide free communication services to this audience in order to gain access to them. Although the target audience's behavior may change in the future, mobile advertising campaigns initiated now need to tap into how the target audience behaves now.
Myth #2: Push is Bad
A UK-based survey conducted in April 2007 suggests that 71% of mobile phone customers said that they would like to receive advertising messaging targeted to their interests. That's more than double the response for non-targeted communication. The target audience views targeted communication as offering an opportunity rather than as a nuisance. For example, receiving a 2-for-1 coupon for a music store or learning of a new release by a popular band on the mobile phone is valuable information to a 19-year-old. The relevance and reliability of the pushed messaging makes all the difference.
Mobile is a "push" communication channel. Various push ad formats provide opportunities for customers to continue a dialog with the brand (thereby transitioning to a "pull" format).
Myth #3: The Text Ad is History
The demise of SMS has long been predicted, but among the target audience it remains the preferred way to receive information. 160 characters are transformed into rich communication when the message they convey is targeted and relevant. "It's better to be rich in context than in pixels".
After Ohrling's talk Marek offered two statistics with regard to mobile advertising:
In 2001, the average prediction for 2005 US mobile advertising revenues was about $3.8 billion. The actual figure for 2006 was $421 million.
Predictions now have revenues reaching $4.8 billion in 2011, but less than 10% will be from multimedia advertising.
The breakout session on mobile advertising followed a slightly different format on day two. Rather than have all groups discuss the same question, the groups were divided into three camps: the realists, the pessimists and the optimists. The realists were asked to identify 3 mobile services which should be funded by advertising so they can be offered free of charge to consumers. The pessimists were asked to identify what could throw a spanner in the works - what will prevent mobile advertising from reaching market predictions? The optimists were asked to discuss why mobile advertising holds so much promise for the industry. The points presented back to the group contained good insights and food for thought:

Click image to view larger size.
Leave a Reply
You must be logged in to post a comment.